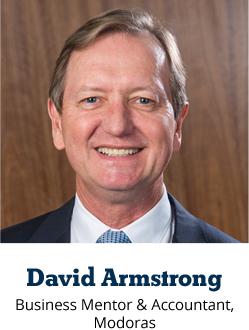 David is the Director of Modoras Downes Barrington (Sydney) and is proud of his 40 years of experience working with business clients. His expertise extends to business growth, auditing, tax planning, governance, directorships, company secretarial services and wealth management.
He is an expert in assisting businesses to scale up.
Dedicated to making THE difference to each life, his approach is to look at every facet of a client's current situation in order to provide an optimum long-term financial solution. He ensures that every client is educated about how strategies are selected and more importantly, why they are recommended.
He derives inspiration from seeing his clients experience the peace of mind that comes with advice from an experienced financial professional.
David has been awarded the prestigious "Meritorious Service Award" by CAANZ for his service to the profession.
When not helping businesses thrive and people achieve their financial goals, David can be found with his family, travelling or sailing on Sydney Harbour or offshore.
Bachelor of Economics (Sydney University)
Fellow Chartered Accountant
Graduate of Australian Institute of Company Directors